Today we're releasing News Trader Pro v2 with Conflict Manager.
No more hitting the spike just to see it reverse due to a conflicting report.
How does it work?
Our requirement was to avoid conflicting reports while still keeping News Trader Pro incredibly simple to use. We're confident we've achieved this!
Before you select the report to trade, you select all of the possible conflicting reports and their parameters. Then you setup News Trader Pro as you usually would. If any of the conflicting reports trigger an opposite position to the main report, then News Trader Pro doesn't fire. See… simple!
Step by step Instructions
We'll walk you through an example to show you exactly how to use the Conflict Manager. For our example, we're going to use Friday's Nonfarm Payrolls Report, and USD/JPY as the market.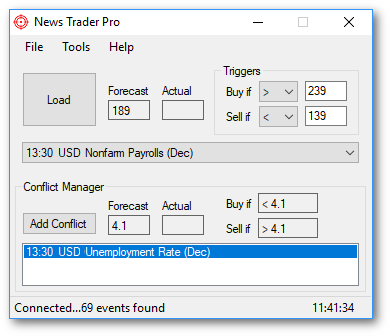 1. Open Conflict Manager. Tools > Conflict Manager.
2. Setup conflicting report.
– Select 'USD Unemployment Rate'
– Buy if < 4.1
– Sell if > 4.1
3. Click 'Add Conflict'
4. Setup USD Nonfarm Payrolls as you usually would and load News Trader Pro.
Download
It's really that simple. News Trader Pro is now live in the Members Area and can be downloaded via this link: Download News Trader Pro v2